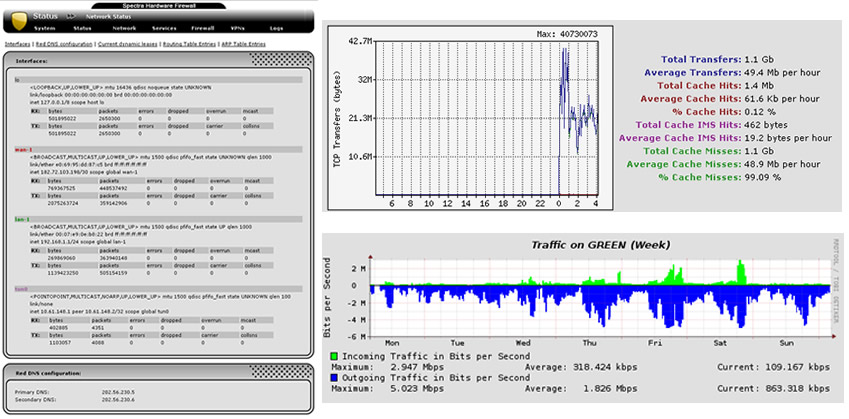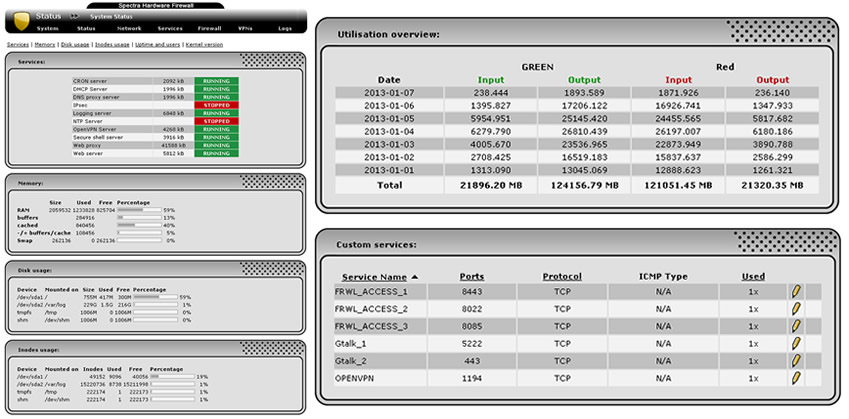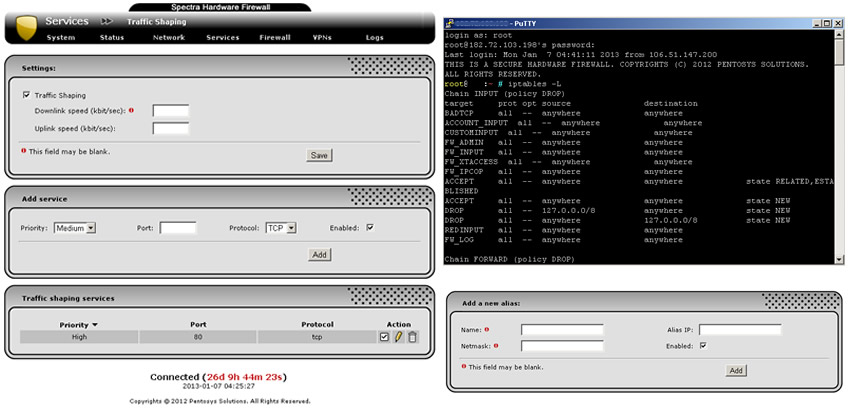 Spectra is a hardware Firewall built on Linux kernel which includes state of the art Intrusion Prevention system along with many other features like a built-in proxy server, Router, URL Filter & more.
FIREWALL: Transparent Layer-2 Firewall, Single & Multiple WAN, Load Balancing, Redundancy & Fail-over, Packet Normalization, Packet-to-Packet Filter, Port Forwarding, User-friendly interface
ADVANCED STATE TABLE: Adjustable State Table Size (Limit or state Connection, Host, Client, users), State Table Normalization
PROXY: Built-in Advanced Web Proxy Server, fully customizable URL Filter, custom whiteliest & blacklist, Category filter, Log Analysis
VIRTUAL PRIVATE NETWORK: OpenVPN, IPSEC & PPTP Support, Internal Network Tunneling, RADIUS & Domain Controller Login Support, ACL & Key-File Access, VPN Logs & more.
MISC FEATURES: Static Routing, NAT, PPPoE, Dialup, MRTG Graphical Logging, SSH Access, GUI Access, Real-time Firewall Status, DDNS Support, DHCP Server, MAC Filtering, Network Accounting
Dedicated Support & FREE Updates:
Unlike many other Firewall's in the market, Spectra series was built with FREE Updates & Patches with NO Lock period on any subscription Plans. Your Investment on Network Security will be one-time only & we assure Upgrades & Patches free for next 10yrs.
Our In-house Research & Development team will assure free upgrades for any model of the firewall you buy from us & our Dedicated CSS Team will provide all kind of Support via Emails, Phone & Chat for one year on the purchase of Firewall.